Cookware made in Denmark
The main part of the cookware collections from SCANPAN are manufactured in Denmark. Our products are famous around the world for the high quality and the Scandinavian design.
At each and every work station through the production process a thorough quality control is made, and we do of course carry out quality controls in our own laboratory on a regular basis. And we can say with pride that impartial tests not seldomly conclude that SCANPAN products are in the top of the cookware league.
The classic choice
The Classic range
The Classic range is developed for gas and ceramic cooktops and created for daily use year after year.
The range is made from 100% recycled aluminium, and the tailor-made base assures an even heat distribution.
The unique non-stick coating makes cooking and cleaning a true delight.
Does not contain PFOA.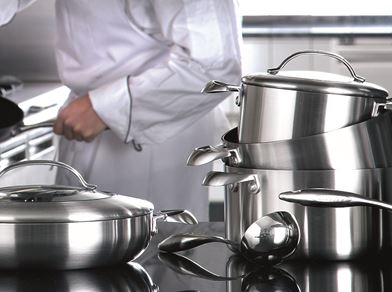 Satin finish steel with non-stick coating
The CTX range
The CTX range from SCANPAN is designed in satin finish steel and with the famous SCANPAN non-stick coating - a delight for the eye and a daily pleasure for the qualite-conscious kitchen enthusiast.
Suitable for all cooktops, including induction.
Does not contain PFOA.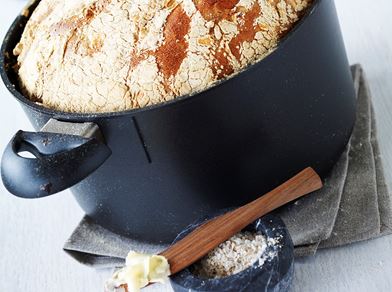 The new generation
The IQ range
SCANPAN IQ is the new generation of pots and pans for induction.
The softly curved handles and the toned glass lid with silicone rim characterize the design.
The special construction of the base assures optimum heat distribution, allowing you to fully enjoy the fast reactivity of the induction cooktop and thereby utilizing the energy to the most.
Suitable for all cooktops.
Does not contain PFOA.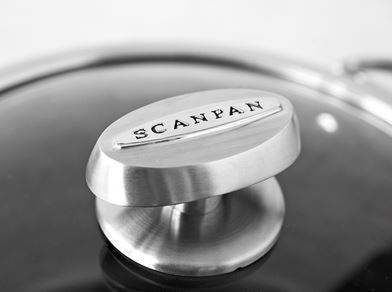 Danish design, professional performance
The Pro IQ range
NEW non-stick line from SCANPAN. Go discover this beautiful addition to our non-stick cookware assortment.
Made in Denmark from 100% recycled aluminium. With our famous hard-wearing and easy-to-clean non-stick surface. Perfect heat distribution and induction compatible.
Steam vented glass lid and professional satin-finish stainless handles.
This is indeed high performance cookware that will meet all your expectations.