Wok dish with Beef and Ginger
Wok dish with Beef and Ginger
Delicious and easy, this healthy dish is a guaranteed crowd pleaser.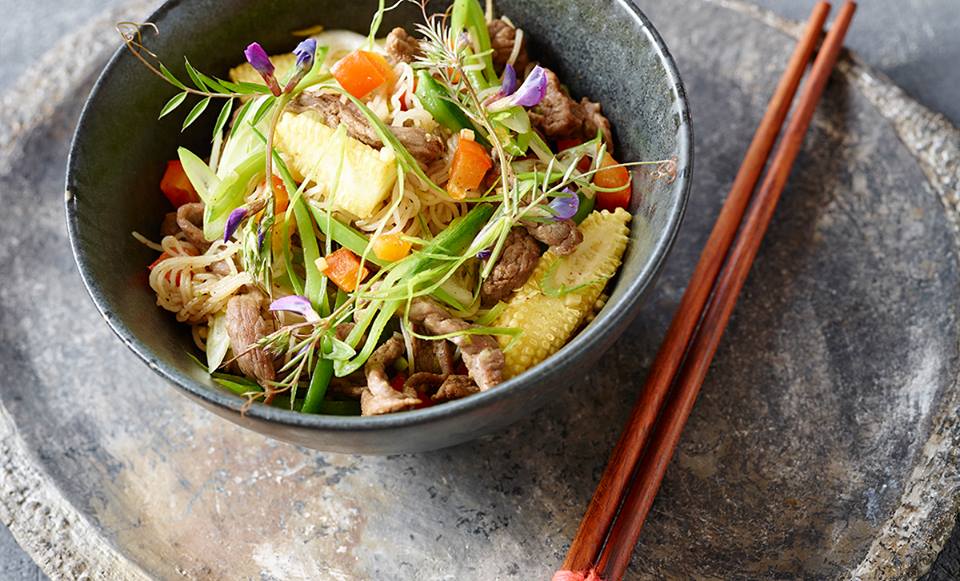 Marinade 
1 teaspoon chinese five-spice powder 
1 tablespoon of soy sauce 
½ lime (juice), organic 
1 teaspoon of sugar 
Salt and pepper 
1 tablespoon of sunflower oil
Ingredients
500 g beef (inner or outer thighs, lean meat) in thin strips
2 tbsp. sunflower oil
1 clove of garlic (finely chopped)
300 g rice noodles (place in water until soft)
1 red chilli (finely chopped)
2 tbsp. ginger (chopped into thin strips)
1 stalk lemongrass (finely chopped)
100 g sugar snap peas (cut into thin strips)
8 x baby sweetcorn cobs (cut diagonally)
6 spring onions (finely chopped)
½ lime (juice), organic
½ lemon zest, organic
2 tbsp. soya sauce
1 red pepper (finely diced)
Salt and pepper
Garnish
Spring onions 
Sugar peas 
Edible flowers
Method
Start by turning the meat in 1 teaspoon of Chinese five-spice and then marinate in 1 tablespoon of soya sauce, the juice of ½ lime and 1 tablespoon of sugar. Place the noodles in a bowl and pour over boiling water. Leave for 5 minutes until soft and then place them in cold water to cool. While the meat is marinating, heat the wok to a medium heat and prepare the vegetables.
Rinse the chilli and remove the seeds. Leave the seeds in for a hotter version. Peel and finely chop the garlic and grate the ginger or finely dice. Wash the sugar snap peas and baby sweetcorncobs and cut diagonally.
Heat the 2 tablespoons of oil. Fry the meat until cooked and then fry the vegetables for 5 minutes in smaller batches if required. Add the noodles (which should be soft after being in water). Flavour the dish with the juice of 1/2 lime, zest of 1/2 a lemon and 2 tablespoons of soya sauce.
Garnish the dish with finely chopped spring onions, finely chopped sugar snap peas and edible flowers.