User guide for your non-stick cookware
Before first use
Wash the product in warm water with washing-up liquid.
Remove any stickers from the product.
In use
The product should only be used for preparing and serving food.
Take care not to overheat the product, as this will reduce the non-stick effect. Overheating is not covered by the warranty.
A: Frying with fat: The product is heated to frying temperature at medium heat for just a few minutes, after which the fat is added.
Overheating mainly occurs when the oil or fat becomes too hot. If the oil is too hot it can burn onto the non-stick coating, which will then deteriorate over time.
Using an aerosol spray is not recommended on non-stick cookware as oil from aerosol cans burns at lower temperatures, and thereby increases the risk of damage to your
non-stick product.
B: Fat-free frying: The product is heated to frying temperature at medium heat for just a few minutes, after which frying can begin.
Products with stainless steel handles may get hot over time, so you may need to use an oven mitt when touching the handles.
After use
The product is best cleaned while still warm, although it should be left to cool for approx. 5 mins before washing in warm water with washing-up liquid. The product should
always be completely clean before being dried and stored. Tougher, internal charring from burnt-on food can be removed by filling 3/4 of the product with water, bringing the
water to the boil at medium heat, adding washing-up liquid, letting it simmer for 15 minutes and then cleaning the product as normal. The process can be repeated as necessary.
A slight wear and tear will become visible on the coating with frequent use. This is normal and will not affect the non-stick effect.
The warranty does not cover stains, fading or internal or external scratches, such as marks from sharp objects or use of electric appliances. The warranty does not cover glass lids.
While the product is dishwasher-safe, dishwashing is not recommended as it can shorten the product's lifespan.
Ovenproof up to 260° C, including the lid and handle.
Aluminium base:
After dishwashing (not recommended), traces of dishwasher detergent may be left on the bottom, as this erodes the aluminium during the cycle.
Silver-like stains may appear on the stove-top from products with an aluminium base. These stains can be removed by using a cleaning agent suitable for the cooker's hob.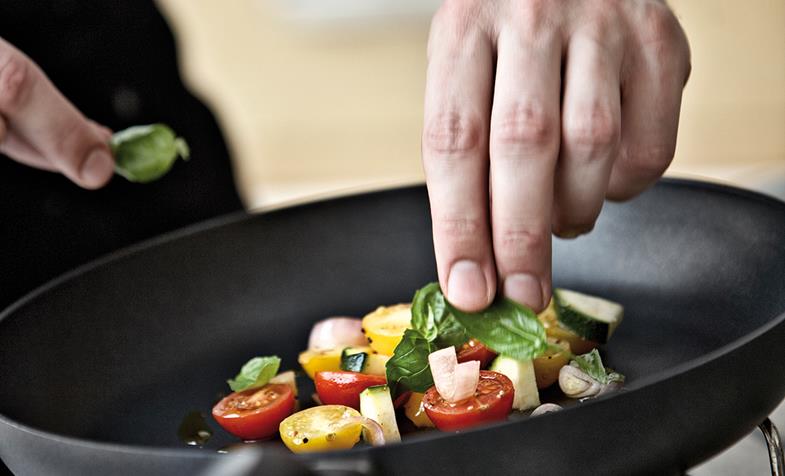 from us to you___
Frying tips
We want you to get the best experience when using our products.
Therefore, we hereby give you our frying tips
frying tips, this way >>>