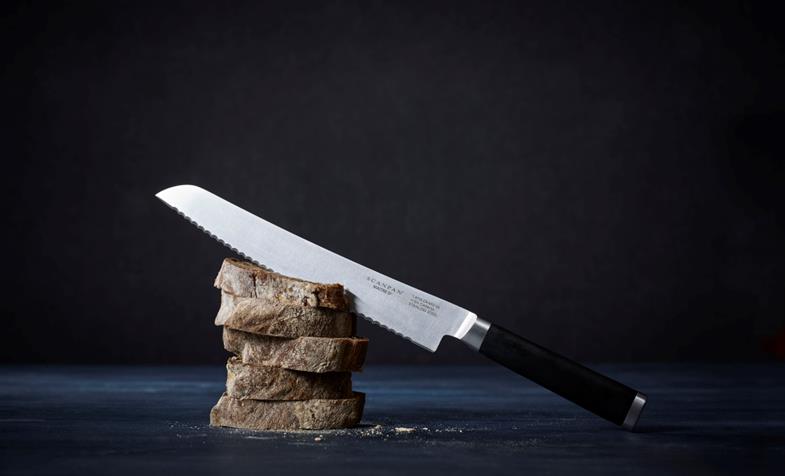 knives from the Maitre D' universe
Luxury kitchen knives
SCANPAN Maitre D' is a series of elegant and functional kitchenware, with an eye for good design and special useful features.
Maitre D' is for you who values aesthetics and great gear at the same time.
About
Maitre D' oak cutting boards
In short:
22 mm thick – gives good stability
Oil treated twice and trimmed with sandpaper during the oiling process - for optimum soft finish
The carving boards have an inclining groove to collect juice in the reservoir
The serving board is suitable for serving cheese, tapas, anti-pasti, salmon, ham, etc.
Organic and soft form. Design: Jacob Leth-Espensen
Supplied shrink wrapped to protect against moisture
No dishwashing - hand wash only and dry thoroughly
About the series
Oak cutting boards: Elegant and functional
The Maitre D' oak range is made from oil treated American white oak. The design is Danish, and Jacob Leth-Espensen is behind.
The range comprises a serving board, suitable for cheese, tapas, anti-pasti, salmon, ham, etc. Furthermore to sizes carving boards (25 x 39.5cm and 30 x 49.5cm), featuring an inclining groove to easily collect juice in the reservoir.
Oil treated oak is a popular material for cutting boards, due to its nice glow and the long durability of this hard kind of wood.
More about cutting boards - wooden as well as plastic. 
Knives: superior performance on all levels
The knife blade is manufactured from the best, German stainless knife steel with chrome, molybdenum and vanadium to obtain optimum sharpness and cutting performance. The form of the blades and knife edges is optimized to perfection.
The handle is Japanese inspired drop-shaped, which gives you a comfortable grip. The beautiful, black pakkawood handle repels water and does not absorb humidity.
Good advice on use and care:
handwash only
maintain sharpness by regularly using a sharpening steel, honing steel or knife sharpener (excluding serrated edged knives)
cut on a non-abrasive surface such as wood, bamboo or plastic
avoid cutting frozen food
store your knives in a knife block or on a knife magnet. Never store loose knives without edge protection in a drawer.